Visitors idea
Sent in by Becky Shaw
Emmanuel Free Methodist Church
Janesville, Wisconsin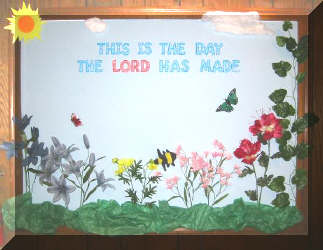 Thanks for this nice email:
Dear Mary Ann,
I am sending you a picture of the bulletin board that my husband
and I put up, based on your board (Spring). We are so thankful for the
great ideas you are willing to share with those of us who aren't very
creative :-) . Thanks for putting your ideas on the web!
May the Lord bless you!
Becky Shaw
Send in more ideas Becky and I will add them to your page.
Mary Ann