Church & School Bulletin Board Ideas
By

Thanks for stopping by. I love new ideas so send in yours.

General Boards for Church: Click on Thumbnail for larger view.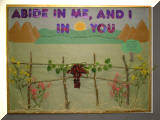 Seasons:
Fall
Spring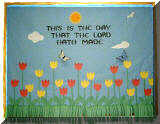 Summer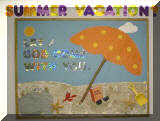 Holidays:
New Years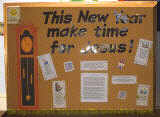 Easter
Mother's Day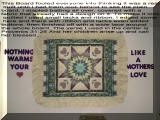 Thanksgiving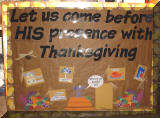 This board had a lot of elements to it. I put up several things to be thankful for: Family, Church, Food...Whatever you want, then I put a mouse saying " what are you thankful for and I put a list and hung a pen with it so every one could come around and put what they are thankful for. I have found that interactive boards are a big hit.
Christmas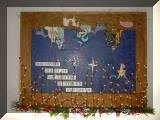 This was a fun board to do. you can't tell by the picture but I brushed glue all over the background and poured a translucent glitter over it, with the icicle lights on it looked great. The greenery and berries at the top came off bushes and trees in my yard. The people and animals were printed off the computer, add icicle lights and you have a master piece.

Special Occasions and Other Boards:

Vacation Bible School

Visitors Ideas
Send in your Ideas to be posted in this Section.
E-Mail Me

Westside creative minds! The teachers at Westside Elementary school were gracious enough to allow me to photograph their doors and hallways. Spring and Easter halls, walls and doors.


Lighthouse Board idea by Nicole from Florida.


Easter Board idea by Nicole from Florida.

Clipart Links

Great collection of Christian Clipart

Safe Surfing
Visit my Page for kids and the whole family.







and leave any comments about this sight.


View My Guestbook
Sign My Guestbook


You are visitor number
Get a GoStats hit counter