Church Bulletin Board Ideas
By Mary Ann
I love new ideas so send in yours to be posted in our visitors section.
Just a little detail about my boards:
My backgrounds are mostly butcher paper on a roll. I free cut the different colors to make mountains and grass and other items. I also use cloth material, wallpaper or construction paper to make backgrounds. I use 3-D items such as sand and shells or baskets and fruit and I love to use ivy and silk flowers its very inviting. Most of my pictures are created and printed off the computer, its amazing the things I can get out of my printer even actual wood grain texture to make wood boards or trees.
I use Pop out letters as well as words printed off the computer. I don't always use a border, sometimes it takes away from the project or over powers it not to mention takes precious space away. If you get a chance drop in and visit my Church's website, Lakeside Baptist Church.
Mary Ann


Fruits of the Spirit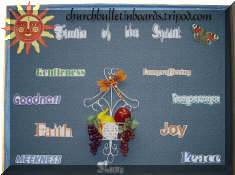 I used Fabric for background, one of those metal (tin) suns, Fake fruit and printed the words off the computer.
Pretty easy board but everyone loved it.
Spring Sunday School door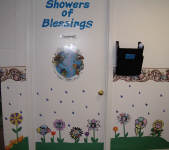 I let the kids color the flowers and I took their pictures the Sunday earlier and put them on the flowers, they loved it, so did everyone walking by to see them.
Thanksgiving

Use caution with candle

Christmas

Use caution with candle

Easter

I used one of the ideas from visitors section

Summer

Real sand, shells, starfish

General

This is a photo of my church blown up to a 4x5

Special Occasions and Other Boards:
Winter School Idea

Vacation Bible School
Lava Lava Island Board (visitor idea)

Visitors Ideas
Send in your Ideas or link to your bulletin board web page to be posted in this Section.
E-Mail Me
..Westside creative minds! The teachers at Westside Elementary school were gracious enough to allow me to photograph their doors and hallways. Spring and Easter halls, walls and doors.
..Lighthouse Board idea by Nicole from Florida.

..Easter Board idea by Nicole from Florida.
..Here is a link to Boards by Bekah, She has a lot of great ideas. Thanks Rebekah Shrader for sending in this link.
..Christmas Idea and Spring/Summer (Weed it and Reap) By Jennifer Smith - Kentucky

..Barbara Colvin sent in her link for Classroom Displays and Bulletin Boards.
..Great collection of Boards by Alta McDaniel from West Virginia. (holidays, seasons, general)
..Idea for Communion by Amber Allen.
..Spring/Summer idea sent in by Becky Shaw.

To answer one of my MOST asked questions "Where do you get your ideas?"
That's exactly why I started this site, no one had ideas in books or on the web in the direction I was wanting to go with my boards. I tend to do thing a little more extravagant sometimes. I thought others were probably looking for more "adult" oriented ideas like me so this site was born. To answer the question, 90% of my ideas are my own creation, made up as I go if you will. Sometimes its looking thru the Bible and finding a verse or seeing something in the store that will inspire me. I feel the Lord leads me to ideas that really touch people and have a good message.
Other times I find ideas in a book or web and modify them to a Christian or more adult oriented theme. My Main board is as you come in the front door of the church so it has to grab everyone, kids love them too.
Welcome to my message Tag board where you and I can leave comments on a instant post basis. Its easy and fun, just fill in your message or comment and click tag.
Please sign my guestbook.


Sign My Guestbook
You are visitor number
Please do not link to my photos
©2004

Check out my new web site for help with those high prescription cost

Visitors since Christmas 2003
Get a GoStats hit counter